Local Walks
Local Walks
Overton is surrounded by a forty mile network of interconnecting public footpaths and bridleways, all of them readily accessible from the village where there is free car parking for visitors.
All the paths are clear and fully waymarked and cover a wide variety of attractive landscapes, riverside, woodland and pasture, many with extensive views. Until fairly recently many routes were obstructed or hidden but thanks to great efforts by Wrexham County Borough Council and the former Clwyd County Council all are now fully open for everyone to enjoy throughout the year.
Overton resident Ken Farrell worked for many years on making the footpaths around Overton accessible.
Woods and Meadows around Plas-Yn-Coed and Cloy 5 miles/8 km
Overton and the River Dee via Knolton Bryn and Llan-y-Cefn Woods (5 miles / 8 km)
Overton to Trench via Lightwood Green (5 miles / 8 km)
Two long distance footpaths pass through Overton parish
If you have a favourite walk please share it with us by sending pictures (if possible) and full details of the walk to the Clerk to Overton Community Council
For a detailed map for walks around Wrexham please take a look at Map of local walks
Please use the following link to access the Ramblers Association Ramblers UK
Keep watching this page for updates on further walks.
If you find any problems please report to:
Walk 1 – 5.5 Miles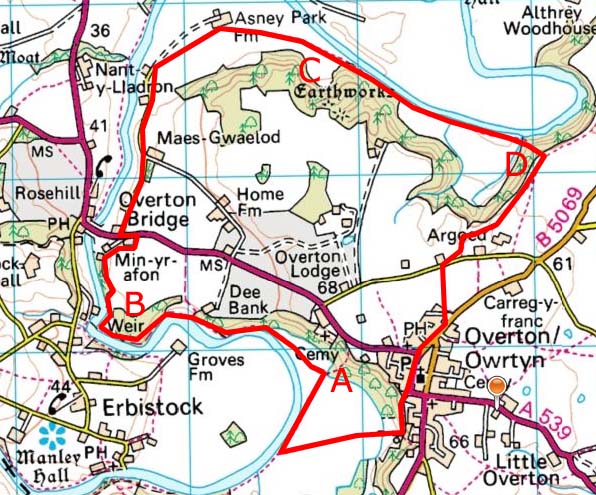 This is a lovely circular walk starting from the middle of Overton Village, and taking you along the Dee for much of the walk, before beginning the climb back through Asney Woods and back to the village.
Ken Farrell on an Overton footpath