OCC Events
Overton Village Fete – 24th June 2023
Overton's annual village fete will take place on Saturday 24th June which marks the return to its traditional date of the last Saturday in June for the first time in 4 years! It will take the form of a Street Market in the morning with a "Picnic on the Pitch" with a Fun Dog Show in the afternoon. Many thanks to Overton Football Club for letting us use the pitch.
Street Market
The Street Market will be from 10am to 1pm. Like in previous years, there will be stalls dotted around the village in the following locations:
On the grass verges by Church Road / School Lane
Dark Lane (which will be closed to road traffic)
In the Church yard
To the left and right of the War Memorial up to the notice board on the High Street
In front of the Village Hall
Stalls will be £10 for Clubs and Associations and £15 for businesses with proceeds going to the Jubilee Community Fund. Whilst there will be no charge for businesses operating from their own premises they may wish to make a donation to the JCF or a charity they usually support in lieu. Bookings are now open – open the booking form here
Please view the updated stall bookings here!
Picnic on the Pitch and Fun Dog Show
This will take place between 2pm and 4.30pm and to if you want to pre-book your space please complete the booking form by clicking on the image below.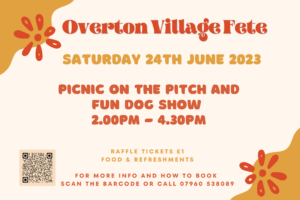 We've created this booking form more so that we can assess approximately how many people will be at the picnic for health & safety purposes; it's not essential to pre-book your place and you can just turn up on the day.
Make your way to the football pitch bringing your own picnic things (including whatever you'd like to sit on) and pray for fine weather! There'll be a bar serving drinks and ice cream from Woodlands. There'll also be a Fun Dog Show which the fantastic Kate Jones has kindly agreed to organise with Ma Baker ("Ma Barker" for the day!) acting as judge. The categories are:-
"Perkiest" Puppy 3 months to 12 months
Jolliest Juvenile 12m – 3 years
Marvellous Middler 3 – 10 years
Waggiest Tail 30 second count All ages
"Best Trick" (Sit / Stay / Paw shake) All ages
"Serenest" Senior 10 years +
Best Young Handler (Humans up to 16)
"Loveliest" Lady
"Handsomest" Boy
Naughtiest in show!
Raffle tickets will be available during the Street Market and the Picnic and the raffle will be drawn at the end of the picnic. Proceeds will go to the Jubilee Community Fund.
If you'd like to get involved and help with the organisation – it's a lot of fun! – please contact Charlotte on 07960 538089.