Overton Village Fete
Overton's Jubilee Celebrations 2nd – 5th June 2022
The Jubilee Working Party is delighted to be able to announce the plans for Overton's community celebrations over the forthcoming Queen's Platinum Jubilee. This is a once in a lifetime event so we hope that as many people in the community as possible will join in the fun!
We're going to need volunteers to help make the events a success … so if you can help in any way please do get in touch – call or email Charlotte on 07960 538089 or ccopeman@overton-on-dee.co.uk
Full details on the events OCC is running are below, but we've also put together a digital brochure of the other events happening in Overton as well around the Jubilee. Please click here to view.
Day One, Thursday 2nd June: Platinum Jubilee Beacon lighting ceremony
It will start on 2nd June with a Beacon Ceremony, the lighting of which at 9.45 that evening forms the official commencement to what will be 4 days of merriment and celebration. Final details are still being arranged so we'll update this page as soon as we've got everything finalised. But in the meantime we'd like to invite all the organisations, associations and businesses in Overton to take part in the Beacon Procession and to get involved please contact John Herbert who is organising this part of the celebration.
Click on the picture for a more detailed agenda with timings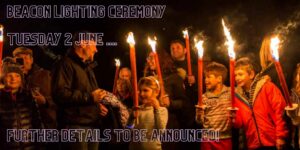 Day Two, Friday 3rd June: Overton's Jubilee Street Market 10:00 am to 1:00 pm
On Friday 3rd June, and following the fantastic success of last year's 'Fete Lite', we're delighted to announce the return of Overton's Street Market! Stalls will be available around the village in the following locations:
– Outside the Village Hall
– Along grass verges on Poethlyn Terrace, Church Lane / School Lane
– Dark Lane
– In Church yard
– On high street, including either side of war memorial BUT stalls must be sited against the wall so visitors can access the stalls from the grass without obstructing the pavements
Stall charges:
For organisations and associations: £5 payable by debit / credit card at time of booking your stall (a receipt will be emailed to you automatically)
For businesses operating a stall (i.e. not from their premises):10% of day's takings, payable to a member of Overton Community Council at the end of the event.
Click on the image below to be taken to the stall booking and payment pages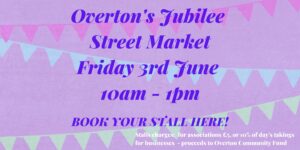 Day Three, Saturday 4th June: Disco in the Village Hall
Saturday's activities will be in the Village Hall, commencing with a FREE children's party in the afternoon between 1.00pm – 2.30pm. There will be party boxes by 2Doves, face painting and party games (with some games kindly donated by Giggles and Games, thank you so much!) and tea / coffee and refreshments for the adults.
Please note that this party is for primary age school children, so aged between 4 and 12 and that all children must be accompanied throughout by a parent/carer, this is not a drop off event and the hosts can take no responsibility for the attending children.
Then, from 7:30pm till midnight there will be a disco for anyone 13 and upwards (under 18s must be accompanied by an adult) provided by Overton's very own Louisa Bottomley, resident DJ at The Flamingo Lounge with a hog roast from Home Farm, with vegetarian lasagne for non meat eaters. The Club will provide a pay bar. Cost per person: £5.00
Click on the images below to book your tickets for the children's party as well as the disco in the evening. ** Tickets for the evening disco also available from The Corner Shop **
Day Four, Sunday 5th June: Overton's Big Jubilee Picnic, 1.00pm – 4.00pm
The four day fiesta will end on Sunday 5th with The Big Community Picnic on the Football pitch. Bring your own picnic gear – be as high or low tech as you like! Some may just like to bring rugs, others might want to go the whole hog with gazebos … it's up to you.
We're also excited to be able announce that Overton's Fun Dog Show will return at the Big Jubilee Picnic so dogs are absolutely welcome (but please clear up any accidents!) – you'll be able to enter your pooches for the various categories on the day. Full details on categories to be announced.
Raffle tickets will have been on sale throughout the four day fiesta and the winners will be drawn towards the end of the picnic, at which point the organised festivities will draw to a close.
There is no charge for the picnic, but we do require you to book so we know how many people there will be for health & safety / insurance / first aid considerations.
Click on the picture below to book your picnic spots.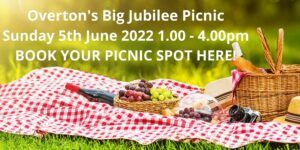 Proceeds from the Jubilee festivities will be paid into the Overton Community Council Jubilee Community Fund from which Overton residents, businesses, associations and organisations can apply for funding. Further details on the Fund, and how to apply for grants from it, will be published later in the summer.