Overton Village Fete
Overton's Jubilee Celebrations 2nd – 5th June 2022
Day One, Thursday 2nd June: Platinum Jubilee Beacon lighting ceremony
It will start on 2nd June with a Beacon Ceremony, the lighting of which at 9.45 that evening forms the official commencement to what will be 4 days of merriment and celebration. Final details are still being arranged so we'll update this page as soon as we've got everything finalised. But in the meantime we'd like to invite all the organisations, associations and businesses in Overton to take part in the Beacon Procession and to get involved please contact John Herbert who is organising this part of the celebration.
Click on the picture for a more detailed agenda with timings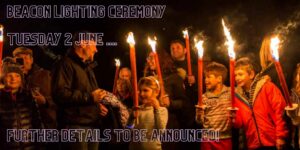 Day Two, Friday 3rd June: Overton's Jubilee Street Market 10:00 am to 1:00 pm – Bookings now closed!
We have 35 stalls this year! Click on the images below to download a copy of the stall list and the locations map. Both of these will also be available to pick up on the day – look out for the lists attached to lampposts around the village on Friday morning.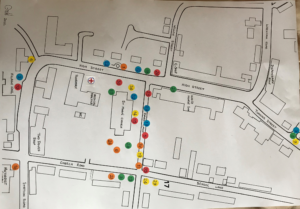 Click to download map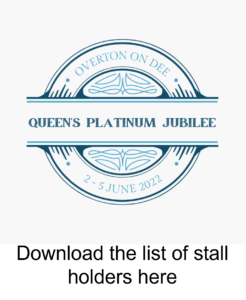 Day Three, Saturday 4th June: Discos in the Village Hall
Saturday's activities will be in the Village Hall, commencing with a FREE children's party in the afternoon between 1.00pm – 2.30pm. There will be party boxes by 2Doves, face painting and party games (with some games kindly donated by Giggles and Games, thank you so much!) and tea / coffee and refreshments for the adults.
Please note that this party is for primary age school children, so aged between 4 and 12 and that all children must be accompanied throughout by a parent/carer, this is not a drop off event and the hosts can take no responsibility for the attending children.
Entry to the 'Through The Ages' Disco on Saturday night is now FREE, and children under 13 can now also come – although they will of course need to be accompanied by an adult at all times. If you would like the Hog Roast that will be £5 pp (payable on the night) for over 18's with children's meals being free.
** Bookings for the discos have now closed **
Day Four, Sunday 5th June: Overton's Big Jubilee Picnic, 1.00pm – 4.00pm
The four day fiesta will end on Sunday 5th with The Big Community Picnic and Fun Dog Show on the Football pitch. Bring your own picnic gear – be as high or low tech as you like! Some may just like to bring rugs, others might want to go the whole hog with gazebos … it's up to you.
We're also excited to be able announce that Overton's Fun Dog Show will return at the Big Jubilee Picnic so dogs are absolutely welcome (but please clear up any accidents!) – you'll be able to enter your pooches for the various categories on the day.
Full details on categories are as follows:
"Cutest" Puppy 3 months to 12 months
"Adorable" Middle Years 12 months to 10 years
"Dearest" Golden Oldie 10+ years
Waggiest Tail Over 30 seconds All ages
"Best Short Trick" All ages
"Most Obedient" All ages
Best Young Handler Humans under 12
"Loveliest" Lady Overall in show
"Handsomest" Boy Overall in show
50p to enter per dog per category. Please go to the registration desk before 1.45 to register
Raffle tickets will have been on sale throughout the four day fiesta and the winners will be drawn towards the end of the picnic. You will be able to buy yours at the picnic if you haven't already done so.
There is no charge for the picnic, but we do ask you to pre-book so we know how many people there will be for health & safety / insurance / first aid considerations.
Click on the picture below to book your picnic spots.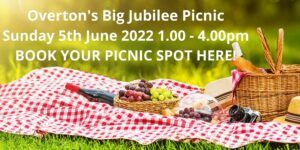 Proceeds from the Jubilee festivities will be paid into the Overton Community Council Jubilee Community Fund from which Overton residents, businesses, associations and organisations can apply for funding. Further details on the Fund, and how to apply for grants from it, will be published later in the summer.