Overton Village Fete
Overton 2021 'Fete Lite'
Update 23rd June 2021 …
Village Stalls
We've reached 32 stalls now and we'll be closing bookings today (23.6.21) so we can print off the maps which will be attached to lamp posts around the village (just like the Scarecrow voting slips were) and in shops etc. The map as it stands at the moment is below – click on the picture to download the full stall list, including stall number and location.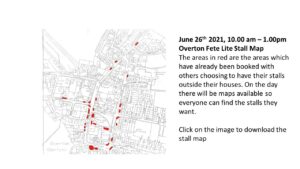 Community Picnic
We've reached maximum numbers for the picnic now. Picnic spots will be well well spaced in the football pitch and attendee groupings will be formed from existing extended bubbles according to the regulations.
And for a list of the fantastic raffle prizes we've been donated, click here! Tickets can be purchased in advance – £1 a strip (contact Charlotte) or on the day. The prizes will be drawn at the picnic.
Bunting
By June 26th Overton will be transformed – we're hoping – with the longest string of bunting the village has ever seen! Let's see how many of us can put up bunting along fences, hedges, fronts of houses to really get us in the festive mood. There's quite a bit of bunting up already and there's loads of time before Saturday for Overton to be festooned! It's all looking really great. Thank you to everyone who is taking part
Overton Community Council website – Home – Overton-on-Dee
Charlotte: 07960 538089 / ccopeman@overton-on-dee.co.uk
Katrina: 07423 569949 / clerk@overton-on-dee.co.uk