Calling all entrants to Overton's Got Talent 2020!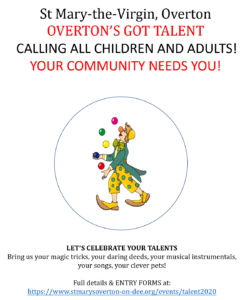 20 July 2020 – Today is the launch date of Overton's Got Talent for 2020! This is about getting together as a community at a time we haven't been able to meet face to face as we would have done with the fete. Let's celebrate each other's talent and the wealth of contribution our community can make to touch the lives of those around them.
You can download an entry form here, or by visiting https://www.stmarysoverton-on-dee.org/events/talent2020
We'd like to encourage as many people as possible to join in – there will be a medal for all and cash prizes, but the best prize will be if the community really takes this on board and we can see people 'on screen' who we would otherwise be meeting up with as part of our normal village life. Good luck!
Notice of a Tender Opportunity: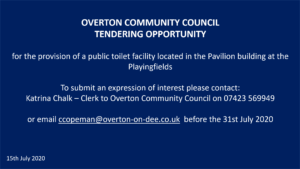 Click to enlarge 
Thank you for visiting the Overton-on-Dee website!
A little bit about Overton
Overton-on-Dee is a small but vibrant village of unspoiled charm, with beautiful surroundings on the Welsh, Shropshire and Cheshire borders.
Nestled in the lower Dee valley within close proximity to Wrexham, the market towns of Oswestry and Whitchurch with links to Chester and Shrewsbury, Overton-on-Dee is set against a backdrop of the stunning border countryside. This wonderful part of North East Wales is a pleasure to explore, once discovered there are endless hours of tranquil and relaxing walks, interesting sights, as well as some amazing family experiences to undertake. Overton is a good base from which you can explore the surrounding areas.
A deep sense of community spirit thrives in Overton and the village's many Clubs and Associations only add weight to this. Links to these are listed below where you will find out up to date information on everything that they're organising and contact information and details of all the ways you can become involved.
In addition, there is an annual Village Fete – by tradition held on the last Saturday in June – which aims to bring the community together and provide a fun day out for everyone. In recent years the fete has been opened in grand style by the Village Parade. If you'd like to find out more please visit our Village Parade & Fete page. We're always looking for volunteers so if you'd like to get involved please contact the Clerk of the Council.
A little bit about Overton Community Council
More details can be found on the Community Council page but, in short, the Council is here to serve the community so if you have a problem you feel we can help with, or any suggestions you'd like to make we want to hear about them. The Council also awards sums of money to local organisations either in the form of a grant or from The Community Chest. Application forms for Community Chest grants can be downloaded here or from the Clerk. This year's closing date for applications is 30 October 2020.
---
How To Find Us
Centre of the village postcode:
LL13 0DT
Offices of the Community Council:
Overton-on-Dee Community Council
Village Hall
Penyllan Street
Overton-on-Dee
Wrexham
LL13 0EE
Local Associations, Groups & Sports Clubs